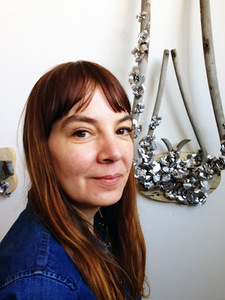 Anne Spurgeon is an interdisciplinary artist working between Columbus, Ohio and Brooklyn, New York. Questions about transformation reoccur in her creative practice. Her involvement began through performance, from playing guitar on stage, to creating private video performances about identity and the sense of the public and private self. In the past few years her focus has moved away from the personal consciousness of the body, to the transformation of sculptural materials. Wood, concrete, metal, and textile processes inform her studio work.

Spurgeon has exhibited nationally and internationally, including work in exhibitions at ISE Cultural Foundation (New York, NY), Exit Art (New York, NY), Artist Space (New York, NY), Riffe Gallery, (Columbus, OH), and The Wexner Center for the Arts (Columbus, OH). She is a recipient of a professional artist individual grant from the Greater Columbus Arts Council, a collective artists grant from The Lower Manhattan Cultural Council, The Austrian Cultural Forum, and the Waskowmium. Her work has been reviewed in publications such as The New York Times, The New York Times blog, and Artnet News. She holds a BFA from The Ohio State University and a MFA from the School of Visual Arts.
Spurgeon's passion for teaching includes nineteen years of experience in classroom, museum, and non-profit settings. She has worked with a wide range of audiences, including those with physical, emotional, and intellectual differences. Spurgeon's teaching and administrative work includes Red Oak Community School (Columbus, OH), The Columbus Jewish Day School (New Albany, OH), Columbus City Schools (Columbus, OH), The Museum of Modern Art (New York, NY), The Noguchi Museum (Long Island City, NY), Socrates Scultpure Park, (Long Island City, NY), Grounds for Sculpture (Hamilton, NJ), and Eckford Street Community Projects, (Brooklyn, NY).